Morpho is now fully dedicated to vinyl and has expanded our collection to fill the entire space.
We are temporarily on hold with hosting or otherwise accommodating any in person events or gatherings.
Feel free to contact us regarding the event space, but please be aware that we cannot guarantee any event commitments at this time.
Morpho Gallery is in the heart of Bowmanville. Never heard of Bowmanville? It's west of Andersonville, north of Lincoln Square on Damen Avenue in an up-and-coming hip and friendly neighborhood.
The space is perfect for small events. Large enough to hold up to 40 people but intimate enough to host 20 in style.
We can help you throw a truly memorable event. Please inquire about:
Catering
Wine Tasting
Artist Leasing
Private Parties
The gallery can be easily set up with bar and buffet and have enough room for guests to mingle. No decorations are needed as the gallery is always exhibiting a new and exciting art work.
Morpho Gallery has been host to a wide variety of events including fund-raising auctions, wine tastings, intimate cocktail parties and community events. There is an outdoor cafe area that can be set with tables and chairs on warm evenings.
Your special occasion will run smoothly because of our creative background in hosting a variety of events. Working one-on-one with you, we can assist you with aspect of the event and menu planning, invitations and other details. We offer a variety of price ranges, one of which will be right for you and your budget.
We also offer special pricing for not-for-profit organizations (documentation of 501c3 required) The fact that our exhibitions are scheduled in advance allows us to provide a preview of the exhibition that will be hanging during your event, and if you haven't yet set a date, may even help you choose.
For more information on renting the gallery for your event, or to book a walk-through contact us at:
Mission Statement
Morpho Gallery prides itself in seeking talented artists who are on the cusp of being discovered by the mainstream art community.
We invite local artists to exhibit their work in an open, creative atmosphere where artistic experimentation and development are encouraged.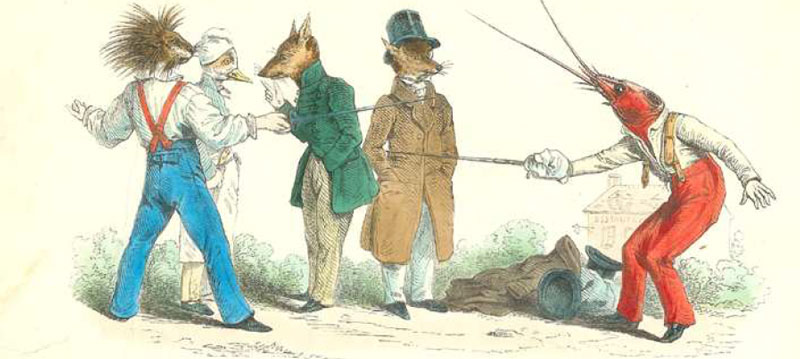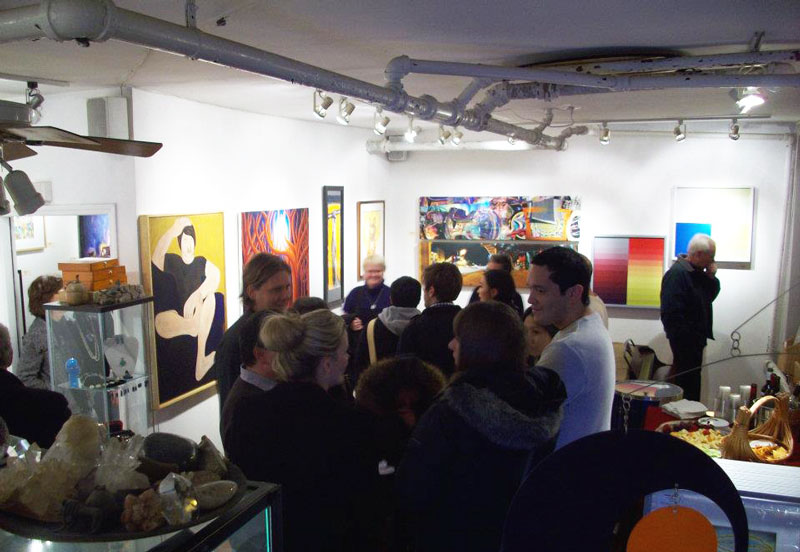 Morpho Gallery – Space Detail
Floor: Wood
Floor Dimensions: 20×30
Occupancy Limit: 45
Ceiling Height: 9 foot
Wall Surfaces: Drywall
Windows: 6 Large Pictures
Availability: 24hrs
Heating/Air Cond: Yes
Restroom: Yes
Lighting: Tracks
Sound System: 5 Disk CD
Internet Access: Yes
Ethernet: Yes
CD/CVC Burning: Yes
Fax Machine: Yes
Copier/Scanner: Yes
Liability Insurance: Yes
Visit
Make Yourself at Home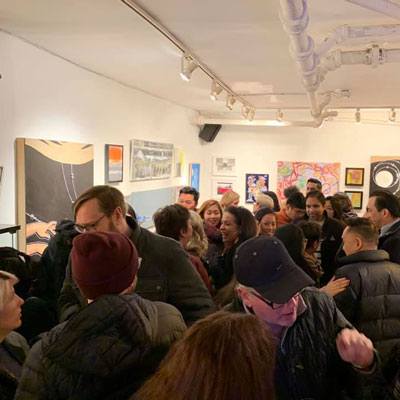 Artist Leasing Packages
Morpho Gallery offers custom Artist Leasing Packages:
artist shows
group shows
organization gala
Artists:
Weekly gallery rentals with catered opening night parties available
Assistance provided distributing press releases for gallery shows to its many media sources
Postcards announcing gallery shows are available at $70 per hundred.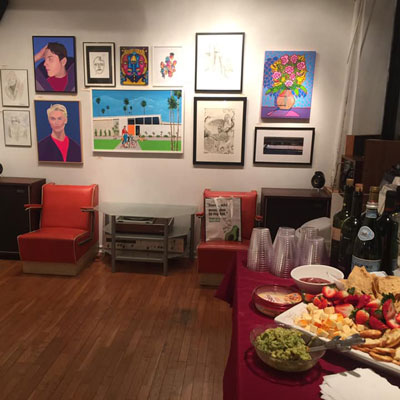 Catering/Event Leasing Packages
Morpho Gallery offers unique Catering and Event Leasing Packages:
cocktail parties
wine tastings
social gatherings
fundraising
Your Special Event:
Intimate setting within a creative environment
Custom menus and liquor packages suitable for any occasion
Address
5216 N Damen Ave
Chicago, IL 60625, USA
(773) 878-4255
Open Hours
Online purchase / mail order available.
Sun-Thu: 11am-3pm (By Appointment)
Fri: 1pm - 5pm
Sat: 1pm - 5pm
By Appointment:
Arrange via email